Thermit® News May 2018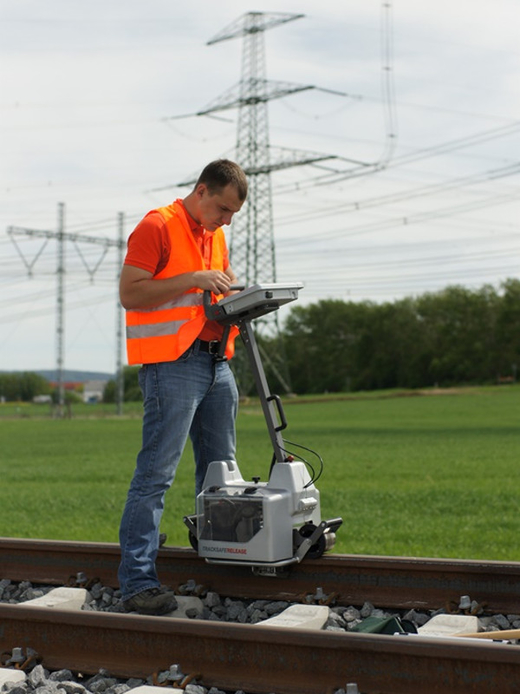 Transfer of metrology services
With effect from 1 January 2018, the measuring services division of Elektro-Thermit GmbH & Co. KG was transferred to Goldschmidt Thermit Railservice GmbH. With this partial transfer of operations, the service activities of these German companies have finally been merged into a single organisation. The technical measuring specialists in both German companies have now been merged organisationally into a single team. This will enable them in future to provide from a single source a broad range of measuring services employing different measurement procedures to suit different fields of application.
Our measuring services include:
•Long-term and short-term tension measurements and definition of the neutral temperature
•Longitudinal and cross-section as well as rail surface roughness measurement
•Track position and stability measurements
•Track geometry testing and switch inspections
•Gauging of point systems
•Ultrasonic testing and inspections
Furthermore, following the transfer about two years ago of the THERMIT® service provision business from Elektro-Thermit to Goldschmidt Thermit Railservice, the process of concentrating the service business within Germany is now concluded.
Please direct any questions you may have in future to:
Abdelmoumene Britechi
Head of Sales
Goldschmidt Thermit Railservice GmbH
Rotthauser Str. 142, 45309 Essen, Germany
Phone +49 (201) 74796 44
abdelmoumene.britechi@goldschmidt-thermit.com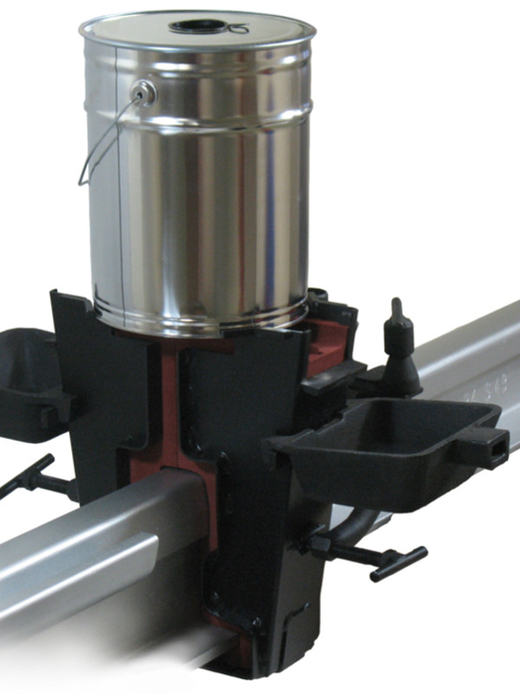 THERMIT® SRZ – equipped for current challenges when welding grooved rails
We have always been committed to welding grooved rails in a safe and commercially viable manner. With the introduction of new, high-tensile and tip-hardened quality grades of groove rail, and with the substantial increase in operational loadings (smaller wheel diameters, higher axle loads, higher input power ratings, more level crossings), the quality requirements for butt welds between rails have risen sharply. The THERMIT® SRZ welding process has been adapted to meet these more demanding requirements.
Through the use of THERMIT® PLUS portions on rail quality grades from R260, the stress distribution pattern near the weld has been improved. It helps to prevent horizontal web cracks. The use of the SMARTWELD JET pre-heat burner greatly improves process reliability. It is therefore advisable only to pre-heat grades of groove rail with this device, and especially quality grades such as R340GHT and R400GHT. With THERMIT® PLUS it is also possible to shorten the pre-heat time of the SRZ process to a standard value of 6.0 minutes (propane/oxygen) or to 5.0 minutes (SMARTWELD JET) respectively. This change of process is being implemented now that the optimised THERMIT® SRZ welding process got certified to DIN EN 16771 earlier this year.
Another problem for local transport operations arises when aluminothermic welded joints move apart. Despite extensive research work, it has not yet been possible to identify the reason for this problem with any certainty. However, the use of THERMIT® PLUS portions with enhanced hardness beside the rail appears to offer a solution to this problem. This is demonstrated by previous rail tests that support the theory that the problem of joints moving apart arises as a result of the different properties of rail and weld materials. One possible explanation is that the yield limits of both materials (rail and weld material) can vary at comparable levels of hardness. At present, no valid standards (e.g. DIN EN 16771) cover cases where weld material has greater hardness than the rail material. If our proposed solution proves to be correct, and if the assumption of hardness can be implemented in practice, these standards will need to be amended.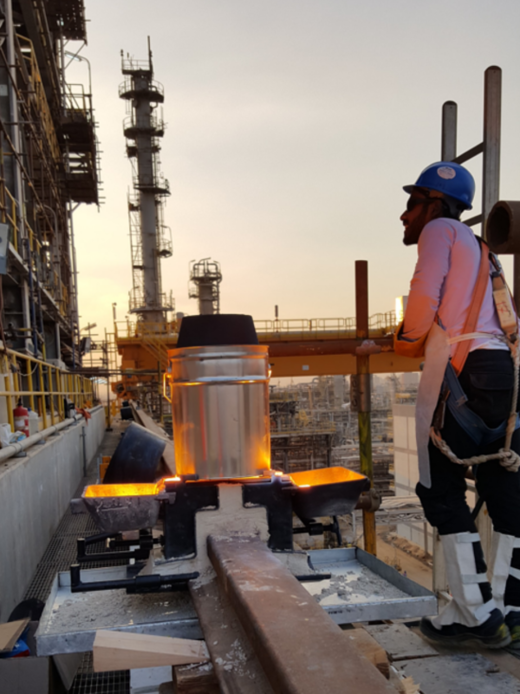 Training at Orascom Construction in Egypt
Orascom Construction, based in Cairo, is a global construction corporation that concentrates on infrastructure and industry projects in the Middle East, North Africa, the USA and the Pacific region. Orascom is conducting welding work on various projects, including the 'Cairo Metro Project' and the expansion of the Mostorod refinery in Cairo.

In October 2017, our colleagues from Technical Service and Sales were in Cairo to train four Orascom welders in the welding process for SKS crane rails. This training course was an upgrade since the welders had already received training from ET in the SoW-5 process during the 'Cairo Metro Project' in May 2017. The SKS training course was conducted directly inside the Mostorod refinery. In February 2018, our colleagues were out on location again, providing technical support for the final commissioning of SKS welds.

Orascom is very satisfied with the products and services of ET, and another order is already in the pipeline. For the next phase of construction for 'Cairo Metro' (Line 4, Phase B), ET supplied the required welding equipment. We are confident that we can continue to convince our customer Orascom with our quality and expertise, and that further orders will follow.
PRACTICAL TRAINING AND WORK INSTRUCTIONS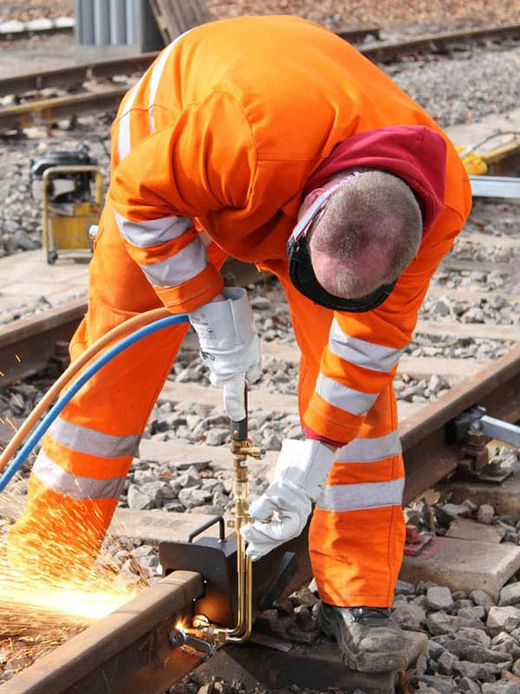 New external training centre for welders in Meissenheim
A working relationship based on mutual confidence that has lasted many years is now being extended. Following a successful audit, Kiefer Schweisstechnik GmbH in Meissenheim has been recognised by Elektro-Thermit as an external training centre for welders. This means that we here in Germany have extended our training locations and capacity levels beyond the scope of our own training site in Halle and at GTA GmbH in Berlin and in Recklinghausen.
In May 2018, a first audit will be conducted at our new school for welders in Kouvola (Finland), operated by VR-Track/TC Thomas Consulting. Following a successful outcome, a further external ET training centre will open to train people in the THERMIT® welding process. The welder training organisations in the Netherlands and Lithuania are also on ET's continuous auditing cycle.
On our homepage, you can find an overview of all current training activities and external training providers accepted by Elektro-Thermit GmbH & Co. KG, as well as their training procedures.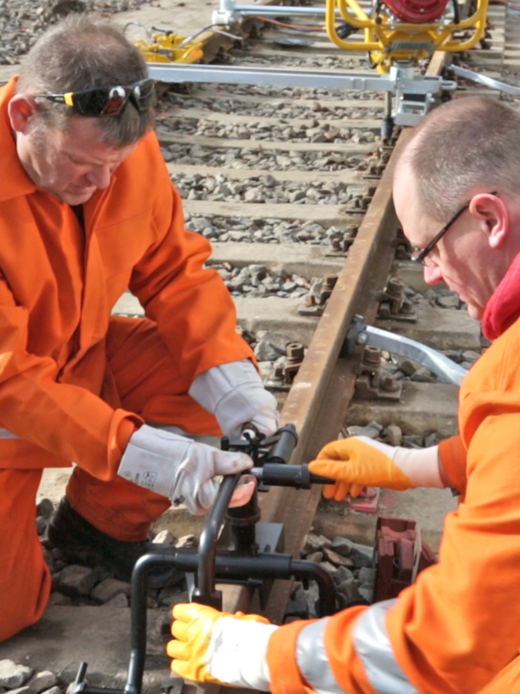 Updated: work instructions for the Thermit® welding process
The processing of our consumables into high-quality end products by your trained employees can only be implemented using the current work instructions.
The complete overview of the work instructions, sub-divided according to language and methods are available here.
You can obtain the required version of the work instructions from your contact in the Technical Service or Sales department.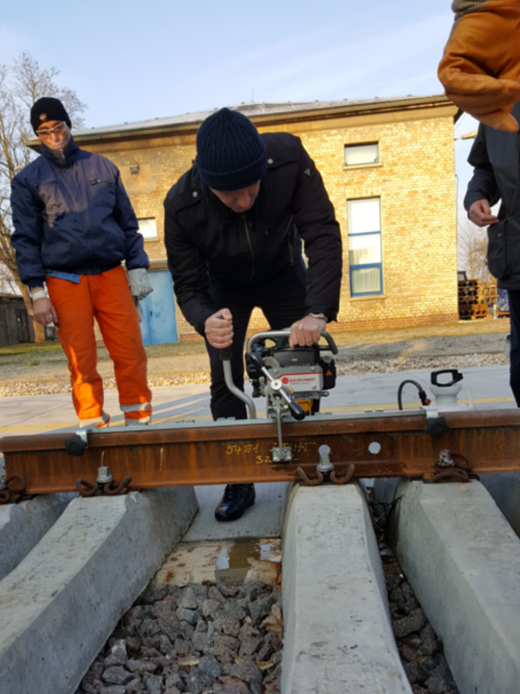 Training of representatives: Theory meets practice
At the end of February, our Strategic Sales team organised a two-day seminar for the sales representatives of Elektro-Thermit. This event centred around theory and practice. The sales representatives from Sweden, Denmark, Estonia, Turkey, Algeria and Spain (Goldschmidt Thermit Iberica) were taken on a guided tour to give them a general impression of the ET production operations and processes.
The training course then tackled various products including the pre-heat burner SMARTWELD JET, the SMARTWELD RECORD handle, the RAILSTRAIGHT rule, the MT insulated rail joints, the RAIL DRILL RD 330 P rail drill and also the GRAW products. As well as demonstrations, the representatives were also given an opportunity to try out the devices for themselves.
The aim was to bring together our representatives and to facilitate an exchange of experience. It emerged from this that some countries are faced with the same challenges. Strategies were discussed about how to introduce new products to their respective markets, or how market shares can be defended. All in all, the workshop was a win-win event for both sides.
After the thoroughly positive feedback from our representatives, there are now plans to convene these training courses for sales representatives on a regular basis to keep all parties right up to date.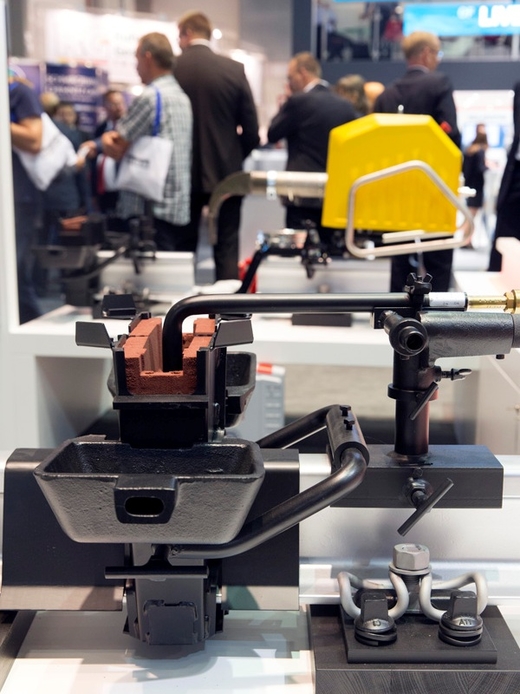 Trade Fairs 2018
Once again this year we will be on hand with our product portfolio at both national and international trade fairs:
Iran Rail Expo - 19-22/06/2018, Teheran, Iran
InnoTrans - 18-21/09/2018, Berlin, Germany
For comments or questions, please contact:
Franziska Maister
franziska.maisterelektro-thermit.REMOVE-THIS.de
Editor:
Elektro-Thermit GmbH & Co. KG
Chemiestr. 24
06132 Halle (Saale), Germany
Managing Directors:
Dr.-Ing. Matthias Wewel (CEO)
Dipl.-Ing. (FH) Johannes Braun

Editorial (v.i.S.d.P.): Franziska Maister
E-mail: franziska.maisterelektro-thermit.REMOVE-THIS.de
Tel.: +49 (0) 345 7795-718
VAT Reg. No.: DE 203131971
Tax No.: 110/112/02561
Registration office: Stendal
Registration number: HRA 34021