Thermit® News October 2019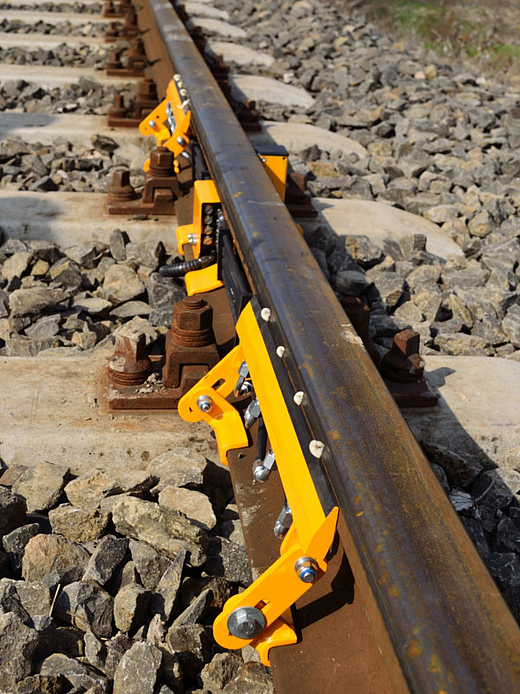 I-LENA Project: Initiative - New and application-oriented noise protection testing
Due to the global positioning of the Goldschmidt Thermit Group and constant expansion of the product portfolio, new business opportunities are appearing as part of cross-selling. We also offer devices for reducing noise and wear alongside the busbar connections with THERMIT® and insulated rail joints. Deutsche Bahn launched a major research program on noise reduction which has been funded by the Federation. The TRACKSAFE LUBE rail lubrication system was tested as part of this project. TRACKSAFE LUBE was developed by our subsidiary MÁV-Thermit and has been successfully used on Hungarian railways for years.
In this system the running edge of the outer rail is lubricated with a special biodegradable grease. This eliminates the squealing produced when the wheel flange touches the running edge when on a bend. An axle counter records when the train passes and monitors the dosage pump at the same time. Initial results indicate that it is a resounding success. The rail lubrication system can be installed in 3-4 hours and is equipped with solar cells, making it independently operated. The device can be monitored and remotely controlled via a mobile phone connection. Evaluation of noise measurements is still ongoing. However, a significant improvement is noted in this field. Squealing noises on bends has been fully eliminated in most weather conditions. Local residents also acknowledge that the situation has improved in this regard. Acceptance of this innovative solution in reducing noise in DB policy as well as in our framework agreement is expected to take some time, even though the matter of noise reduction is of fundamental importance for acceptance of rail traffic. A second rail lubrication system was commissioned for use on Berlin trams in May.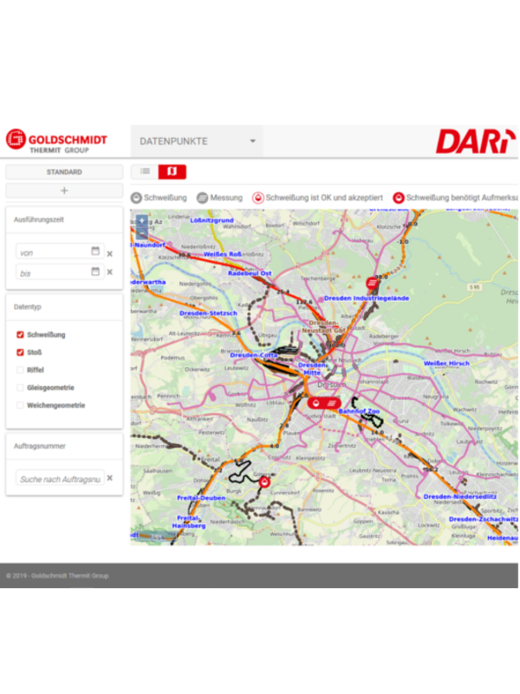 DARI® Update
Our DARI® database solution now supports the TRACKSCAN COMPACT und TRACKGAUGE DIGITAL (rail geometry measurement) measuring devices as a result of the new update. As well as measured values for track width, super-elevation, longitudinal level and cross level errors, the TRACKSCAN COMPACT hand-guided trolley also automatically transmits the route covered, the GPS position, and the visual inspection of the rail to DARI®. This information can be evaluated in real time and archived via DARI® alongside the measured values from the hand-guided TRACKSCAN COMPACT trolley.
The latest version of the SMARTWELD application enables digital documentation of welds carried out with a conventional preheating torch, and for these to be transferred to DARI®. In addition, up to four photos can be taken and digitally linked to the weld. DARI®-Premium customers can now generate their own PDF templates to handle individual documentation requirements on construction sites. These templates can be used both for PDF exports of an individual data point as well as for mass export of several data points. This new premium feature means, for example, that all daily construction reports within a shift can be exported in a single step.
PRACTICAL TRAINING AND WORK INSTRUCTIONS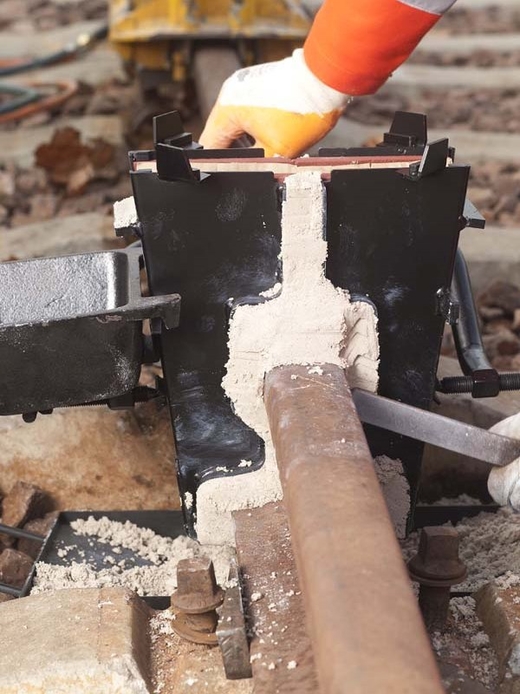 Updated: Work instructions for the THERMIT® welding method
The processing of our consumable materials by your trained employees to create a high quality finished product must be performed in accordance with the latest version of our work instructions.
A complete overview of our work instructions, sub-divided according to language and methods, is available here.
Your contact in the Technical Service or Sales departments will be happy to provide you with the requested version of the work instruction you require.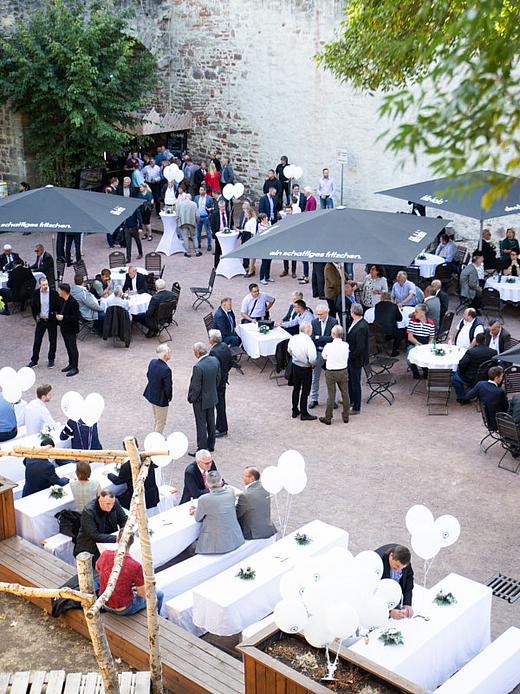 Staff and customer event: 100 years of Elektro-Thermit
After the official 100th anniversary celebrations took place in May, the main festival for staff and customers took place on 6. September. Around 350 guests had signed up. Many of our domestic customers, but also a few of our customers and representatives from abroad were also at the Burggraben in Halle.
After a brief welcoming speech by Dr. Wewel and Dr. Keichel, several customers praised the excellent long-term collaboration with Elektro-Thermit. Afterwards, the physicians, actors, and presenters from "Physikanten & Co." presented complicated scientific matters in their typically entertaining and accessible manner, with plenty of explosions, hisses, and smoke. After the meal, the band Aeroplane ensured everyone was in high spirits. Dancing to tunes from a DJ took place later on. Both the tombola and the rapid artist were extremely popular. Proceeds of € 680.10 were donated to Save the Children e.V.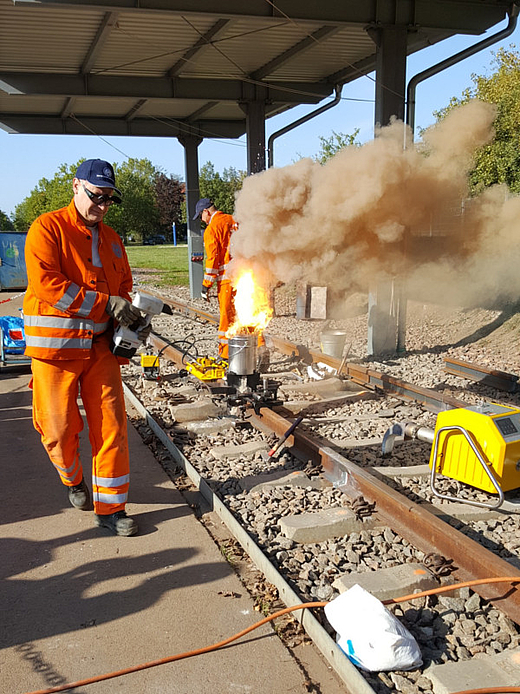 In-house exhibition
In the run-up to the staff and customer party, the Elektro-Thermit sales department organised an in-house exhibition. Many customers and in-house representatives were invited. A wide range of Goldschmidt Thermit Group products was presented at various locations. Numerous measurement devices as well as tools & machines were presented along with a THERMIT® welding unit.
For comments or questions, please contact:
Manuela Illmer
manuela.illmerelektro-thermit.REMOVE-THIS.de
Editor:
Elektro-Thermit GmbH & Co. KG
Chemiestr. 24
06132 Halle (Saale), Germany
Managing Directors:
Dr.-Ing. Matthias Wewel (CEO)
Dipl.-Ing. (FH) Johannes Braun

Editorial (v.i.S.d.P.): Manuela Illmer
E-mail: manuela.illmerelektro-thermit.REMOVE-THIS.de
Tel.: +49 (0) 345 7795-718
VAT Reg. No.: DE 203131971
Tax No.: 110/112/02561
Registration office: Stendal
Registration number: HRA 34021